On my way back from the The Elephant's Trunk Flea Market last weekend I took a detour to some of my old, but less recently frequented, thrifting stomping grounds - The Savers in Meriden, CT and the Goodwill in Southington, CT.  Savers is a treasure trove of vintage gems and it's organization and vintage selection and pricing make it good competition for Goodwill.  What keeps Goodwill #1 in my heart however, is it's Sunday $1.50 sale, half off color sales and frequent shopper reward discounts.
You may notice a pattern to the items I bought! Here are some gems I picked up at each:
Stanley Philipson Mod suede colorblocked slingback heels with gold detailing - never worn! (Savers)
Mod Graphic Black and White Garden of Eden Eve Print Maxi Dress (Savers)
New Old Stock Mod Orange/Black Color Block Coat (Savers)
80's Asymmetrical Black Leather Rocker Ankle Boots (Goodwill)
Cute 50's Plaid Cotton Summer Skirt (Savers)
70's Selene Tropical Print Jumpsuit (Savers)
80's does 40's Rayon Tropical Print Dress (Savers)
80's does 20's Sheer Chiffon Flowy Dress (Savers)
80's does 40's Black Floral Ruffle Dress (Goodwill)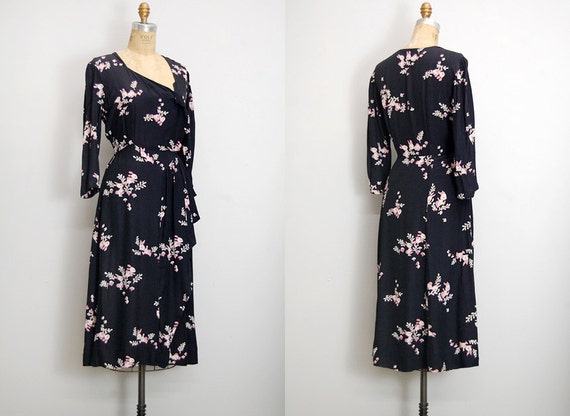 and here's an authentic 1940's dress I came across on Adore Vintage - crazy how similar they are!
Vintage Nevco Milvia Cutting Board and Turquoise Pyrex Dish (Savers)
I have a collection of Milvia's days of the week cutting boards issued by Nevco in the 60's.   I'm still looking for Sunday and Monday.  Even though I already have Thursday,  and this one is larger than the rest - I still couldn't pass it up!